Urgent Appeal
From: Rabbi Shalom Ber Stambler and Rabbi Mayer Stambler
Chabad of Poland
To: אחב״י ה׳ עליהם יחיו
In addition to the Chabad of Poland Refugee Center we have been running since the outbreak of the Russian/Ukrainian War, providing hot meals and warm beds to more than a thousand Jewish Ukrainian refugees, Chabad of Warsaw is now taking it a step further.
While we are helping those who want, to emigrate to Israel, there are also families that wish to begin their new lives right here in Poland. We know that when a Jew gives charity, the highest level is to do so in a way that enables the recipient to be self-sufficient. Baruch Hashem, we have 10 families that are ready to take that step.
In order for the refugees to begin to find employment, they first need to know that their families will have a roof over their heads and a stable place to call home. Through tremendous efforts, we have found 10 apartments for these families – unfortunately, there is a catch. Landlords do not want to rent to refugees and they will not do short-term rentals. We are prepared to rent the apartments on the family's behalf for 1 year, but we do not have the money.
This is an Urgent Appeal to provide a semi-permanent home for 10 refugee families. The impact you can make on these people's lives is unimaginable.
see https://www.youtube.com/watch?v=SLcOmfL1o9s
Donations are tax deductible in Australia via Chai Charitable Foundation
Campaign Contact Email: rabinstambler@gmail.com
Campaign Contact Phone: +48607700548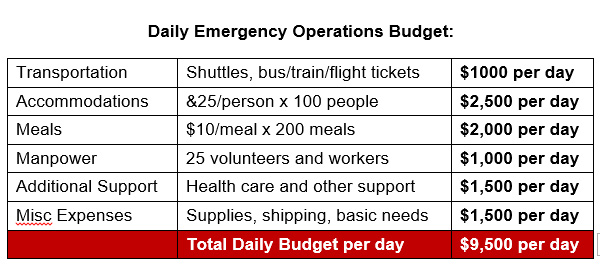 DE
$ 340
Dr.Rivkah Ezra
Refuah Shleima for Shlomo ben Hannah
2022-07-29 13:31:55
DE
$ 200
Dr. Rivkah Ezra
Refuah Shleima for Shlomo ben Hannah
2022-07-23 22:03:11
DE
$ 200
Dr.Rivkah Ezra
2022-07-14 22:36:29
CS
$ 18
Chanoch Sufrin
2022-06-29 01:17:03
SC
$ 100
Shimon and Miriam Cowen
Refuah Sheleima for Rut Michal bat Sara Faige
2022-06-28 21:28:48
NR
$ 180
Naomi Rafael
In memory of my grandfather, Meyer Shimshon ben Nuta
2022-06-28 18:31:51
LG
$ 180
Leah Greenbaum
2022-06-28 17:38:00
ET
$ 90
Eli Tayar
From strength to strength
2022-06-28 00:27:38
DW
$ 100
don and wolf
2022-06-27 22:50:51
MA
$ 36
Mendy Ajzenszmidt
2022-06-27 22:26:14
A
$ 100
Anonymous
2022-06-27 21:10:11
BC
$ 18
B Cyprys
2022-06-26 17:12:06
RM
$ 120
Rose Mehlman
On the yorzheit of my mother, Necha bat Gimoel
2022-06-26 12:31:00
SG
$ 18
Sholem Gorelik
2022-06-24 11:07:18
DM
$ 100
Dr Mat Gelman
Leilui Nishmas Reb Zechariah Ben Zusha HaLevi z'l
2022-06-23 20:12:56
PS
$ 36
Please Select:
2022-06-23 20:12:28
ML
$ 180
Moshe Loebenstein
2022-06-23 20:04:22
SG
$ 252
Sandi Gabriel
2022-06-18 18:13:40
TB
$ 100
Tamara Boldiston
2022-06-18 15:43:07
HH
$ 180
Hiperworld Holdings Pty Ltd
2022-06-16 19:47:35
A
$ 360
Anonymous
For a refuah shlaima for Ahava bat Rivka Chana
2022-06-14 23:16:36
RK
$ 90
Regina Kofmansky
2022-06-13 19:37:33
A
$ 180
Anonymous
leuly nishmas r'Shlomo ben Avraham z"l on his 25th Yahrzeit
2022-06-13 16:40:01
MC
$ 20
Mushka Cohen
2022-06-12 14:07:35
DE
$ 200
Dr.Rivkah Ezra
cover urgent needs
2022-06-10 10:28:05
MC
$ 15
Mushka Cohen
2022-06-07 19:23:25
MC
$ 36
Mushka Cohen
2022-06-07 19:21:48
DE
$ 300
De.Rivkah Ezra
Mitzvot for Shavuot
2022-06-03 13:28:23
A
$ 900
Anonymous
2022-06-02 23:07:52
A
$ 10
Anonymous
2022-06-01 22:39:57